Defining personas and analyzing user demographics are great approaches when improving your existing products. However, you've possibly gotten to the point where you need to re-think your product value more significantly.
There might be several reasons to try to involve the JTBD framework in your strategy:
From a business perspective: there's too much competition on the market.
From a marketing perspective: your communication misses a strong unified message.
From a design perspective: you want your customers' needs to be more satisfied.
To offer better solutions and become more competitive, you should know what your customers' motivation is in the first place. People don't purchase your products or services just because they want to own them, no matter how good they might be.
Their real motivation is to execute a "job" for which they are "hiring" products. Or in the words of Tony Ulwick, a pioneer of JTBD theory, "stop studying the product and instead study the job that people are trying to get done".
Why you should consider JTBD?
Jobs-to-be-done is a user-centered framework that will help you design fundamentally better solutions for your customers. It is a way of looking at customer's needs and understanding the value they seek in your products. If done right, your innovations can be much more effective than designing your products and services according to customers' demographics.
The "job" in JTBD theory is a "statement of what the customer wants to achieve or accomplish in a given situation. Customers aren't buyers, they are job executors," says Ulwick. The framework is rooted in market research and business strategy, but is remarkably helpful in UX design and marketing, too. When you deeply understand what "job" your customers want to get done, it will help you create better solutions, improve your product value communication and take over the marketplace.
How is it better from demographics?
Unlike the motivations and behaviour of your personas, which can change over time, their "jobs" stay stable. Steph Troeth perfectly sums up that jobs provide a "customer-centric problem frame that's independent of a solution". Your users' journey may differ from persona to persona but their primary motivation – the core job that has to be accomplished – is often the very same for each persona.
The most used example when talking about JTBD is Theodore Levitt's quote "People want a quarter-inch hole, not a quarter inch drill". The JTBD theory goes far deeper into understanding customers' motivation and considers "making a quarter-inch hole" only an intermediate goal. Their real goal might in fact be hanging a wall clock.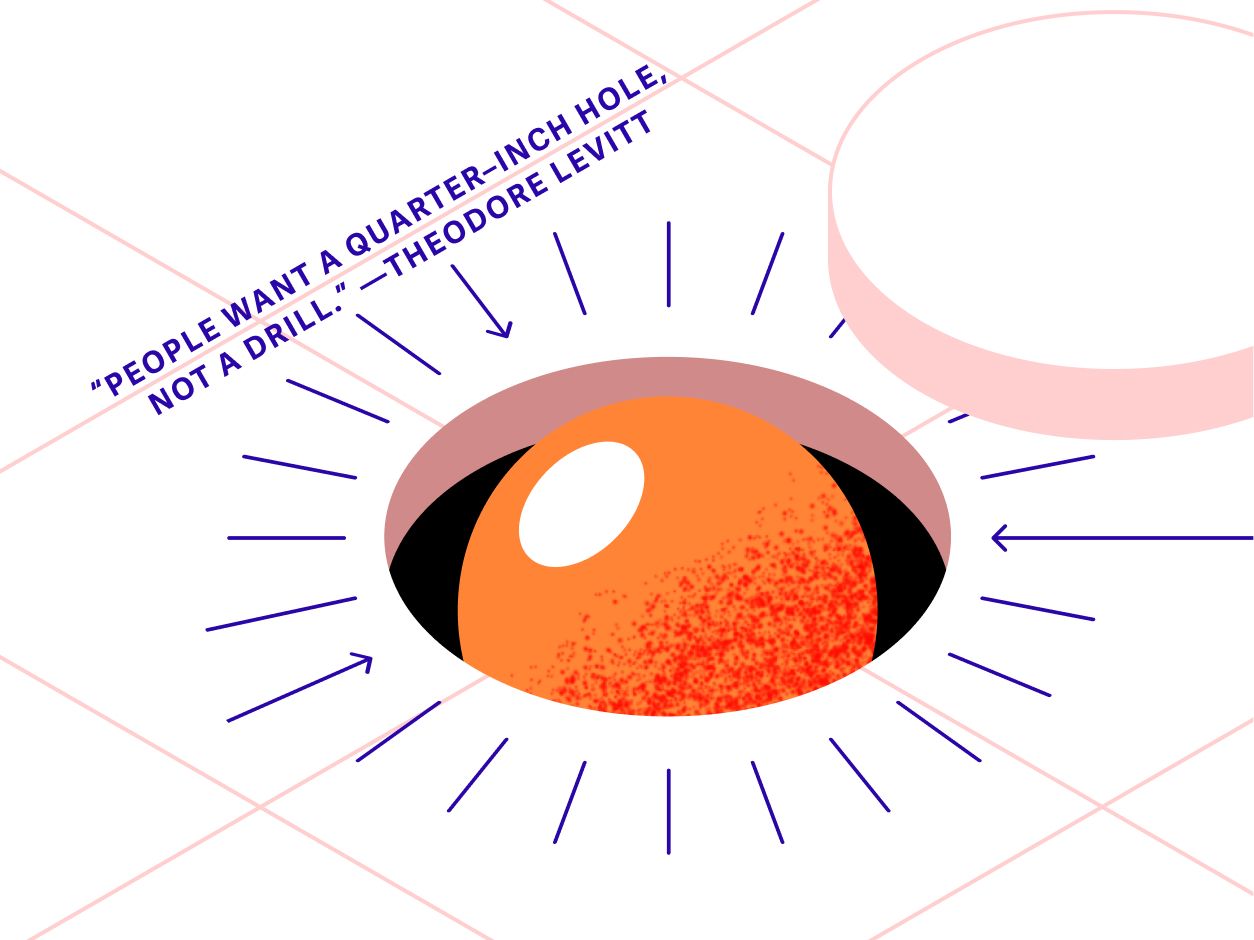 This method will help you realize that not only the customers don't need the drill to get their job done, they actually don't want the hole, either. Why not design a clock that doesn't need to be hung? Because the primary need of your customer can just be: knowing what the current time is anytime I need to.
Adjusting your innovations to users' actual "jobs" will help you develop a solution with stronger customer value or make your marketing more effective when promoting your product value. Once you know the statement of what the customer wants to get done, you can focus on Outcome Driven Innovation.
How to apply the JTBD methodology?
Interviews are a great way to understand these core motivations or jobs. Following them up by surveys will help you quantify their importance and will show you how satisfied different types of your customers are with fulfilling them.
Job maps will help you understand what your customers are trying to achieve at different points of executing these jobs and what they consider a successful completion.
Learn the stories of the customers who switched to your products and the ones that turned away from your products to understand their core "jobs". A simple formula by Alan Klement can help you define the outcomes expected from the job: "When … I want to … so I can …." As you can see, job stories frame the motivation within the context and the situation, whereas user stories are based on a requirement around personas.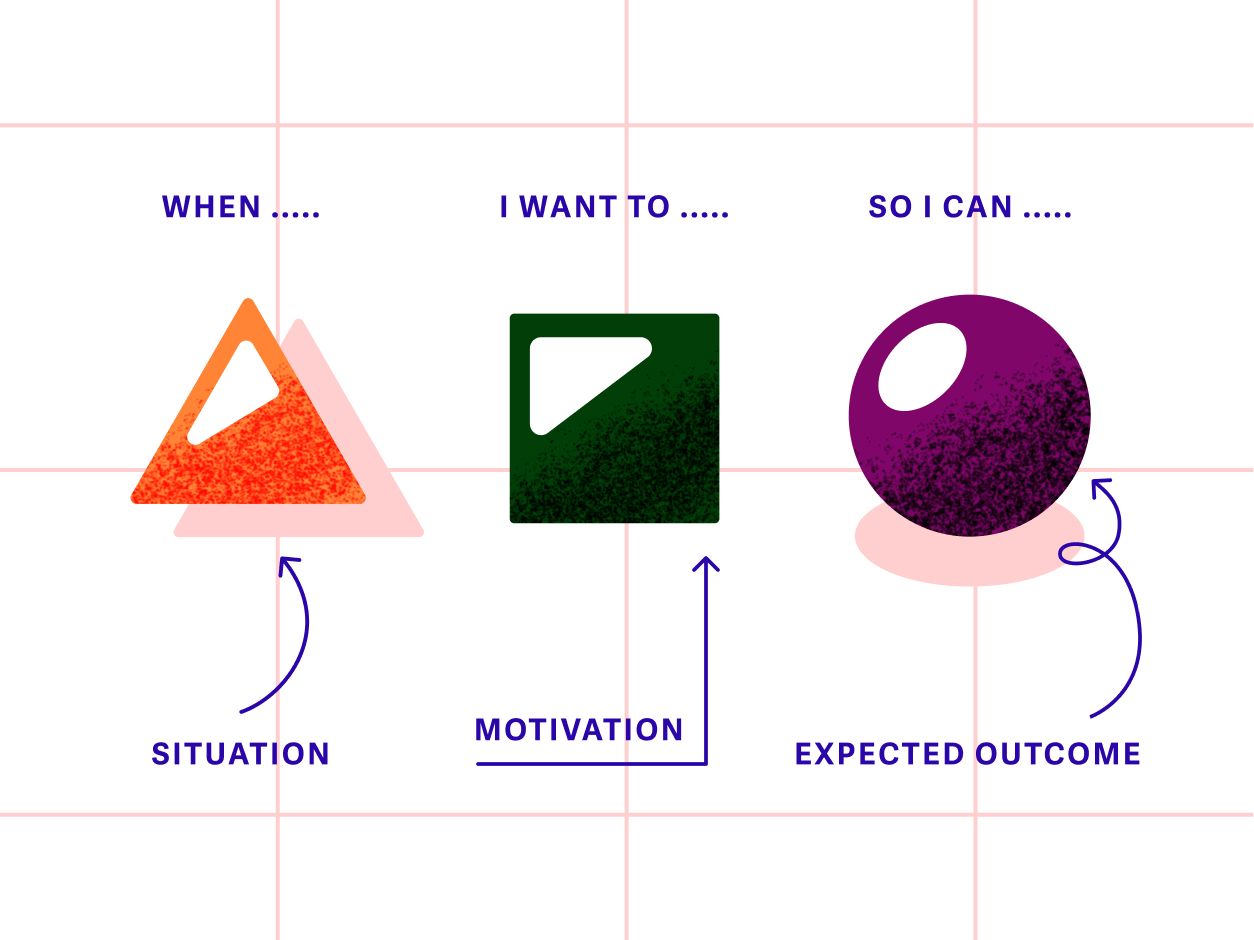 Applying the JTBD theory into your strategies doesn't mean you should stop using personas. These methods work best when used together with other ones, so it's good to keep them in your toolbox. Try to consider JTBD every time when analyzing product value becomes a focus point. When you define primary jobs, you can come up with a groundbreaking solution to your customers' problems or create an innovation that can make your products more lovable. So go ahead, let your customers succeed in executing their "jobs".