Inquisitive mind? Subscribe to our LB* Insights newsletter. No fluff, just stories to make you think.
It always strikes me how creative people get when it comes to keeping time records. I've heard about filling double-the-time inputs, writing custom scripts, or even putting the optical mouse into a glass cup to generate fake activity so the corporate computer stays awake. But what surprises me the most, these stories usually come from my smartest, most lively friends. That's how I realized it's not about laziness. People just don't believe the time records are worth anything.
The core problem with agility
When it comes to implementing agility, most companies think it's about tools and processes. Breaking down silos into multidisciplinary teams, introducing kanban, training Scrum masters or having those beautifully tidied Jira boards... But imagine how many times you've found yourself or your team being late with the project deadline although you followed the process and used the tools with 100% accuracy. Still, the work got prolonged somehow or you realized the whole initial roadmap wasn't estimated well.
Tools themselves are misleading. Often this is mistaken because organizations are more focused on iterating the visible elements of agile transformation, although the less visible are the ones that matter and have the real impact. Of course you'll appreciate tools and processes, but becoming agile solely because of them is nonsense. Agility – as an ability to adapt to change – is less about specific practice, but rather about attitude.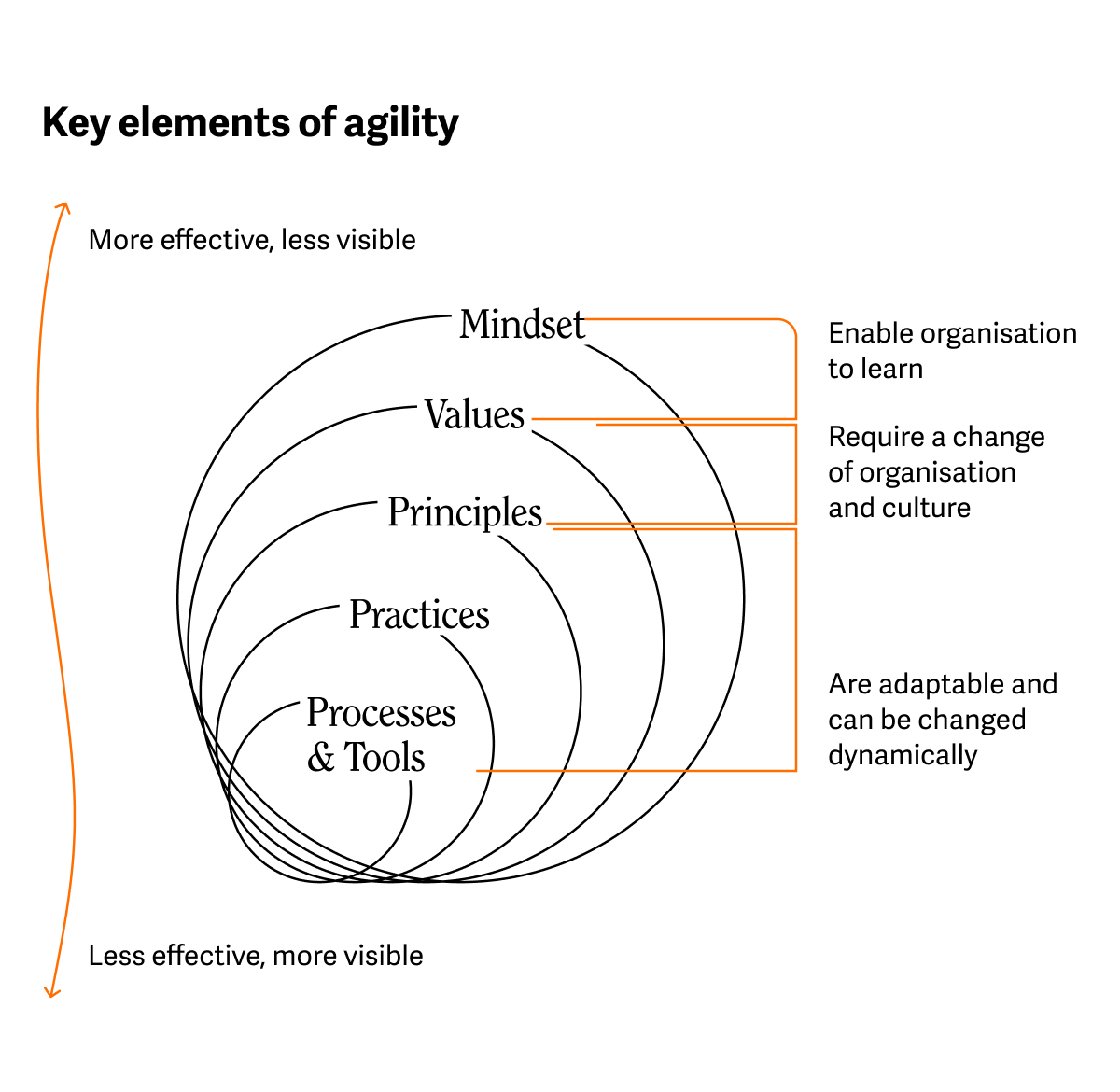 Being agile starts with data
In Lighting Beetle*, we're strong believers in data-informed decision making. And just like we can use it when analyzing a customer research, we can do that for work estimations, too. Being able to confidently say how long a certain task or project would take, was actually the very first step we took to transform into an agile studio.
Back in 2009 when LB* was established, we wanted to do every project that came our way. To deliver it in a record-breaking time and the highest of quality. But we quickly realized this is no easy feat. We struggled with resource estimations, faced tight deadlines and felt overloaded. And we put the pressure on ourselves by unconsciously agreeing to unrealistic commitments.
Only when we implemented time tracking into our workflow, we started to see patterns and the work became more predictable. The time tracking reports became an essential tool. Not just for account managers making invoices, but for any of our designers or developers deciding about how to invest their time to bring the highest contribution to overall value. We learned to work agile and it enabled us to deliver on time and in budget.
Measure time for better decisions
1. Start benchmarking time spent on tasks and regularly evaluate it. Not to boss around but to identify possible obstacles and collectively discuss how to overcome them. That's what all the agile ceremonies exist for, as this article explains.
2. Gain confidence – yourself and in your team – by being aware of your efforts. Knowing how difficult a certain challenge was, enables you to plan the next one better. Data is useless if we don't learn from it, so let people be conscious about their work and feel in control. At LB*, this awareness helped us implement the Lean UX process.
3. Once people feel confident about their knowledge and experience, they are ready to take over the responsibility. They start to make bold informed decisions and plan the most impactful work autonomously. And that's the moment of agile transformation you're so desperately aiming for.
Confidence is sexy
A client recently told me: "Agility is not a threat. It's like a fire. It scared people until they learned how to tame it." I bet you've heard this one before: The trick to boost agility is in the mindset change. For us, the trick was hidden in time tracking and you can read the whole story in the Toggl's case study about Lighting Beetle*.
Data allowed us to gain confidence in decision making and taught us enormous learnings about running agile projects. We allocate resources better and deliver on time and within budget with almost zero scope creep. And thanks to agile decisions we also succeed in keeping our work and lives balanced. I highly recommend trying it yourself.
Did you find this interesting? It's from our LB* Insights newsletter. Give it a try.